Discover Mushroom's Imp – our latest blockchain card!
It is ha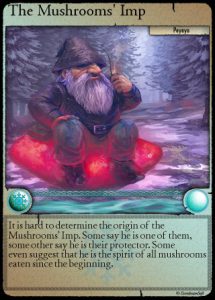 rd to determine the origin of the Mushrooms' Imp. Some say he is one of them, some other say he is their protector. Some even suggest that he is the spirit of all mushrooms eaten since the beginning.
MUSHROOMSIMP is an SoG asset issued in a limited supply of 1200 units. From Thursday, August 10th, 3pm CEST, you can get yours from the Partner Merchant for 25 BCY!
How can you use it in the game?


Enjoy! 😉