Discover the SoG Public Interactive Roadmap
Our community has been asking us for a long time to publish a roadmap. We're glad to announce that our Public Interactive Roadmap is now online.
Benefits & Goals of the Roadmap
The intended benefits of the roadmap are:
To give users the opportunity to contribute to the development of Spells of Genesis with their ideas and propositions, to become creative stakeholder of the project, and express their voice.
To put all the interesting concepts we have out there, for the users to read, vote and give feedback on. This will give us the necessary feedback about what we should prioritize, according to the community, and how we could change features.
Some of our users may be wondering about our future implementations. This is a good tool to put all the ideas in the open and make our users see more and dream with us of the intended full product.
To provide a way to keep track of feature requests and updates. It is also a way for us to engage with them.
Trello will help us be more agile. However, we're not going to plan too far in the future to allow for prioritization changes.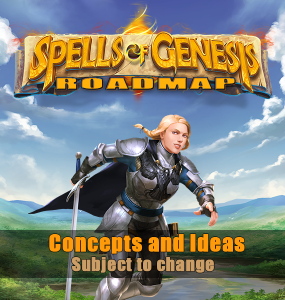 Why did we chose Trello?
Trello is effectively used by other small game studios. It is easy to use, change and update. It also facilitates our communication on certain concepts and prioritization with the community. Moreover, users are able to interact with the roadmap, comment and upvote the features they consider high priority.
How EDS will use it
We will use our Trello board to communicate the concepts and ideas we want to implement in the near and far future, and to highlight what we are working on right now. The Roadmap  contains 4 lists:
Welcome/Readme

: to inform users what he is about to see, and how he should interact with the roadmap.

Community suggestions

: Here we put all the ideas from the community. They do not have to be good or approved. It is so the community can see that their ideas are processed, and they can keep track of them.

Ideas & Concepts

: Here we list all our concepts. The design doesn't have to be finalized, but we have decided that it would be a benefit to SoG and we want to implement it at some point. The concepts at the top are prioritized the highest.

Doing

: We put the major things we are working on in the current sprint in here.

Done

: Here we put the cards that we have done in previous sprints.
Rejected ideas
It is quite possible that some members of our community want a certain idea implemented, but that this idea is either not good or not possible. We will open the discussion with the community there.
Voting & commenting
Anyone can view the roadmap online. However, users with a free Trello account will be able to vote and comment. We highly encourage you to create a Trello account for this purpose.
We hope this initiative will help you understand our development ideas and implementations and encourage you to be part of our adventure!