Interview with Cdex
In this series of interviews we want to let our users speak about their experience of Everdreamsoft's game Spells of Genesis. Today, Cdex, who is Nr 6 on the leaderboard and scores 752616 points, is sharing his views and thoughts on one of his favorite games.
Where do you live? How old are you? What is your job?
I'm a 35 year old in Toronto. I was a lawyer but left the practice of law earlier this year to focus on a blockchain startup.
How and when did you discover Spells of Genesis?
I think it was around Spring 2016. I played some Moonga in the past and came to learn of SoG. It was roughly around the time PokemonGO came out. My friends would play Pokemon, but I was more interested in building my deck and experience in SoG.
Why have you been attracted to SoG?
I like the fact that I own the cards I play with. The ability to play a game, level up, and then create actual blockchain assets is very appealing to me. The game itself is fun too.
What bothers you in the game? What do you like in it?
It gets boring constantly replaying the same level over and over to gain experience. Shortly after each game release, I complete all the campaigns and then it's simply a process of logging in multiple times a day and repeating the same level over and over until my stamina empties. At first it was Sia, then Orc, and now I'm repeatedly playing Lightning Warrior. I really enjoy when new campaigns come out and provide a new experience. I just wish there were more levels.
What is your favourite card and deck?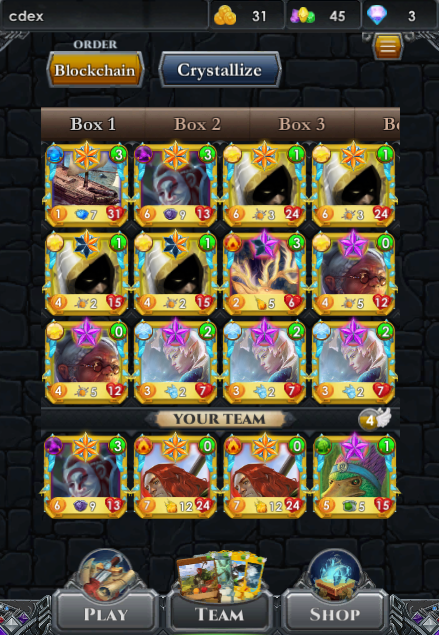 This is a tough call. QUIRINCARD (Quirin the Druid) is probably my favorite for campaigns as it's a strong Flame All that can usually kill enemies, especially the far away or barrier blocked enemies that are difficult to hit. I use CCMCARD (Mages of Anonymity), QUIRINCARD, QUIRINCARD, XULNOCCARD (King Xul'Noc) for Lightning Warrior. For Raids, I use 2 BITCOINISTCD (Crystal Journalists) and then a pairing of CCM, SATOSHILITE, QUIRIN or XULNOC depending on the bonus.
Did you purchase gems and if yes, how often and how do you use them?
Yes, I've purchased gems a few times. I use them to refill stamina. I've never used them for a Rare+ or Epic+ card as the cost is too high and I can get those cards in-game by paying gold.
What gaming strategy would you recommend for beginners?
Don't waste your crystals or gems early. Review the forums or sogassets.com to find out which cards are good and which should be permanent members of your deck. Level those up and crystallize the others. Don't unnecessarily Fuse or Crystallize simply to do the Achievements, you'll get those achievements over time.
Be patient and stick with it. At first, with only 10 stamina you can only play a few times and then you run out of stamina. Come back a few hours later and play again. Over time you'll level up enough where you can play for longer sessions and earn more gold. Once your stamina is high, that is the time where the stamina refills become more valuable; until then, save your gems!
Try not to crystallize Epics or Legendaries. They give you more crystals but the cards are generally more powerful that Commons and Rares, and will be beneficial to have in your deck at later levels.
Anything else you want to add?
I really enjoy the game. It would be fun if there were more elements and more strategy and decision making was needed. The Earth element is generally very weak. The only reason to use it is to protect your team from spikes. At upper levels, even with a shield one shot from an enemy will generally kill you. And PvP is very hard at the upper levels.
Thank you Cdex for sharing these insightful remarks with us and the community!