Meet the Artists: LastDove
Spells of Genesis wouldn't exist without the talent of the all the illustrators who've created amazing artworks. In this series of interviews, we want to present the artists who have so significantly contributed to the visual quality, the atmosphere and the success of our game. Today, we've asked LastDove to answer a few questions.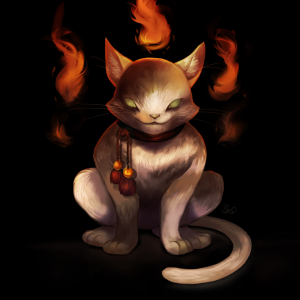 Where do you come from, how old are you and how did you become an illustrator?
I'm 29 and from Arizona! Aside from it being dramatically hot (it was 45°C a few weeks ago..!) the scenery of the desert is amazing. As a kid I always loved drawing and creating so it's something I never grew out of. When my family got our first computer, I started sharing my work online. Eventually I ended up going to conventions and taking commissioned work.
What is your background in terms of design/illustration studies?
I went to school for illustration, but I honestly think I've learned more outside of school. Socially is was good for me, but I don't think it helped that much artistically. 
What are your influences and inspirations? How do you define your style?
Other artists (Kazuma Kaneko, Hiroaki Samura, Claire Wendling, a ton) video games, books, and the horror genre in any medium really. Nature has so many fascinating animals, I find it infinitely inspiring.
Overall I'd say my style is colorful and playful. Maybe with some underlying dark themes? Haha!
What graphic design/editing software do you use?
Mainly Photoshop, but I enjoy messing around in Paint Tool Sai as well.
What kind of character/animal/object would you love to design for Spells of Genesis?
I think a spider or some type of giant insect would be cool!
Where can our customers and fans see your work or portfolio?
They can find some of my works here:
Tumblr: https://lastdove.tumblr.com
Twitter: https://twitter.com/last_dove
Instagram: https://www.instagram.com/lastdove/
EnregistrerEnregistrer
EnregistrerEnregistrer
EnregistrerEnregistrer
EnregistrerEnregistrer
EnregistrerEnregistrer
EnregistrerEnregistrer
EnregistrerEnregistrer