Alabaster December Monthly Campaign
To make war with my limbs frozen does not scare me. I do not fear you.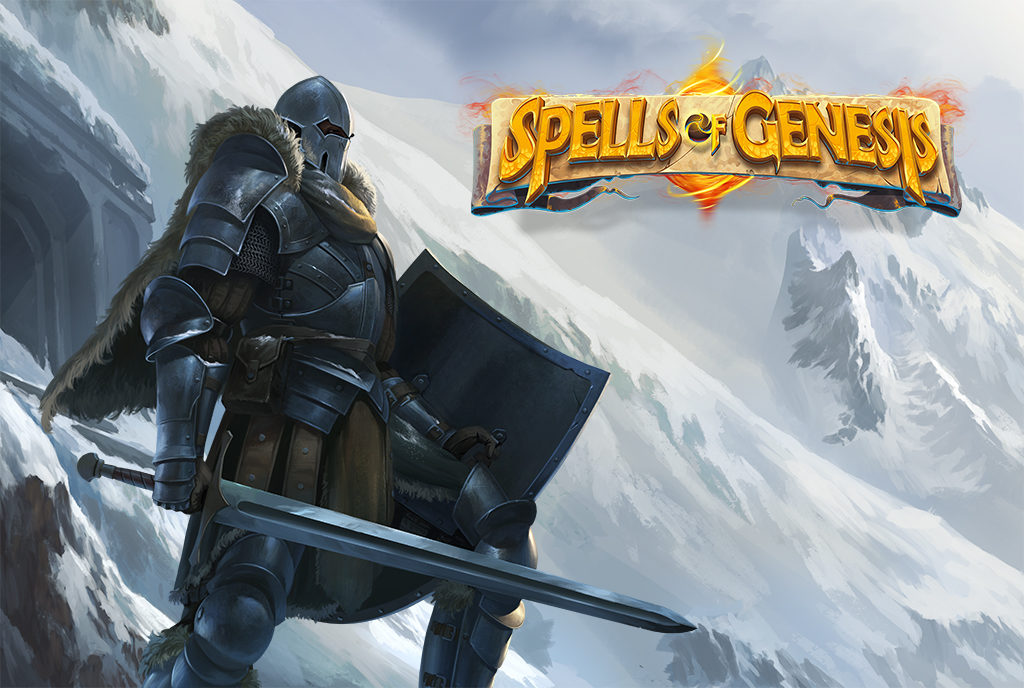 On December 10 we will launch two (yes!) new campaigns in Spells of Genesis. The first one is the usual monthly campaign and the second one is a special campaign named à Table! Campaign. Be prepared for some fun!
The Alabaster December monthly campaign
The main character of the new campaign is Lucan, from the Alabaster Company. Lucan is the most accomplished strategist of the Company. He can build a reliable and bold plan in the most grueling conditions. He is trained to survive and fight in extreme climates.
Reminder: to be able to play this campaign you need to complete the first star of Dark Creator (Level 30).
Gameplay
A new snowy and icy background has been added. You are encouraged to break the ice with your enemies but you'll need some firepower to get rid of your opponents and destroy the wooden boxes barricading the battlefield. You'll meet fewer but stronger enemies and Freeze cards get a boost to both their attack and health. The first 2 levels have 4 waves. Level 3 and 4 have 2 waves. And level 5 has 1 wave.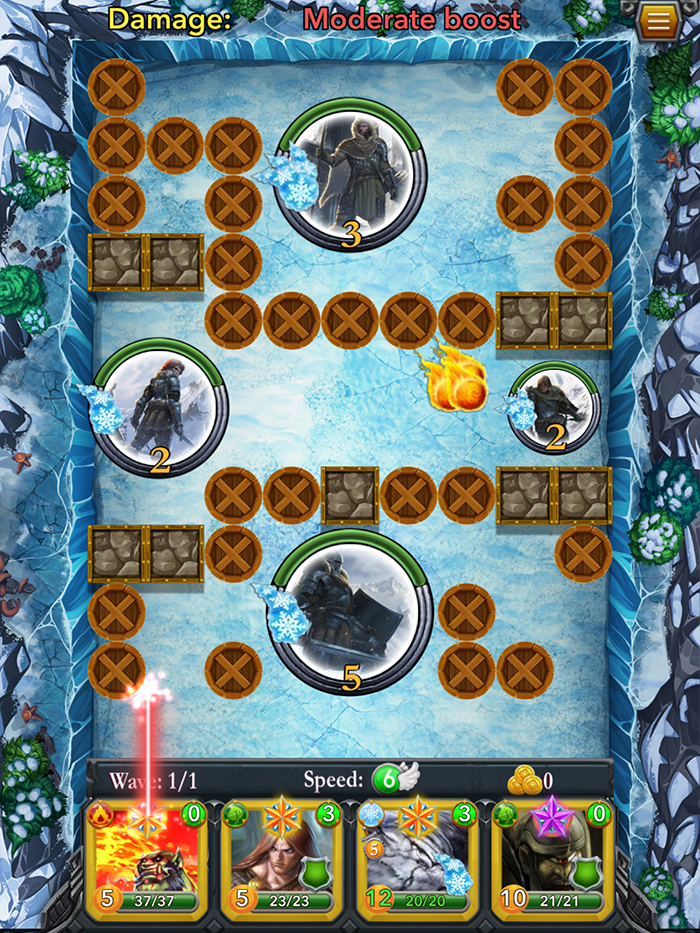 Gold rewards & stamina costs
The gold rewards and stamina costs are the same as for last month: the 1st star will cost you 13 stamina per round and you'll be receiving 200, 250, 300, 350, 400 gold as a reward. After the first star, stamina and gold are increasing.
Rewards being offered
4x Itlan Dog Handler (rare), 2x Itlan Hero (epic), 1x Crirawin (Legendary)
Definition
Alabaster: a fine-grained, translucent form of gypsum, typically white, often carved into ornaments, from Latin *alabaster*, *alabastrum*, from Greek *alabastos*, *alabastros*.
A table Yummy campaign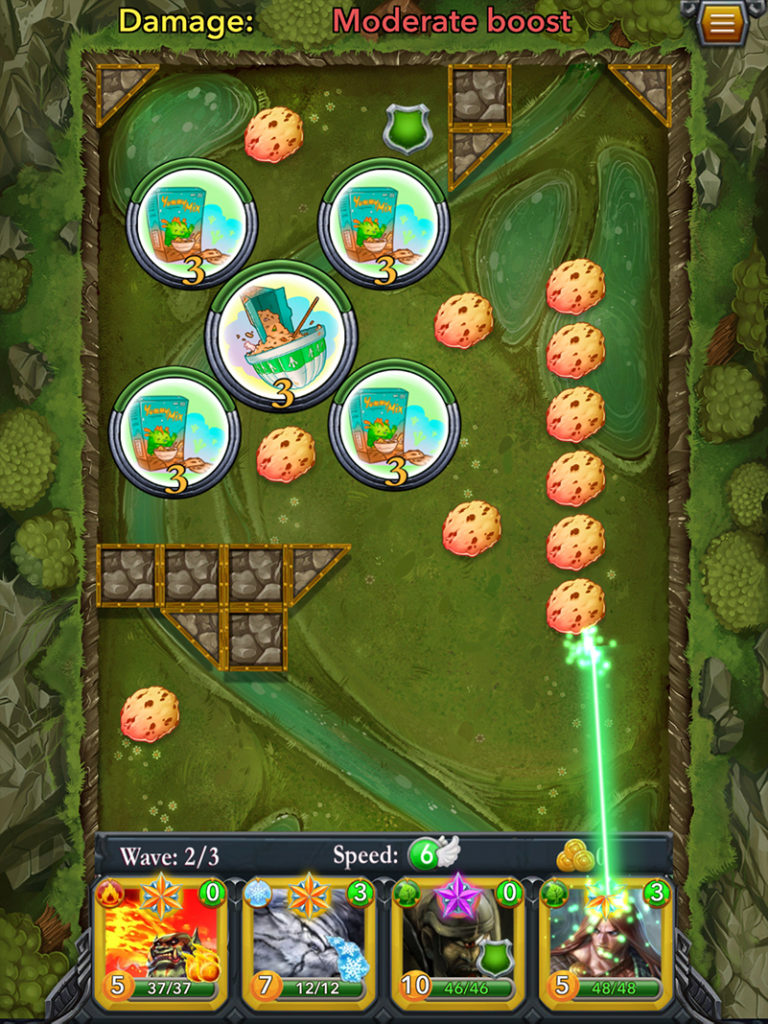 To celebrate the Presale of "à table!" Yummies we've added a second campaign to the game. Don't forget to update your app to fully enjoy this addition. A button that refers to the à Table! Campaign has been added to the screen allowing all players that beat the first boss on star 1 to play it. Another button in the campaign leads you to the Pre-Sale of "à table!" yummies.
This special campaign will be playable until March.
A brand new object has been introduced: Speed Cookies! Pick them up to increase your speed!
Last but not least, by playing this campaign you can get a special and unique Legendary card reward: Gummy Yummy! If you obtain 4 copies of "Yummy Mix" and quad-fuse them, you get a Gummy Yummy! This card will ONLY be obtainable in this campaign and never after. The stats for the Yummy Gummy card are:
attack: 10; health: 6; speed: 2; spell: Shield All 6.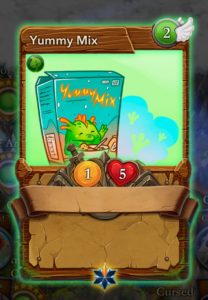 Card boosts
Earth and Water cards have their health boosted.
Card rewards
3x Harvesting Troll (rare), 4x Yummy-Mix (Legendary)
For the record, à table! is an upcoming Ethereum-based exploration game set in a fantastic food world. This delicious world can be explored by adorable creatures called "Yummies"! Yummies are ERC-721 tokens you can buy with ether. [read more about the a table game]
Bugfixes
We've also fixed some bugs among which the 500 gold freeze. No more stuck-in-screen after picking up gold and enemies being destroyed by moving spikes.
A new build (version 1.2.20) should also be available for download by the time we launch the new campaigns.
Spells of Genesis has also been linked to Casa Tookan wallet.