Spells of Genesis is Going on Ethereum!
EverdreamSoft Partnering with DappRadar and Matic Network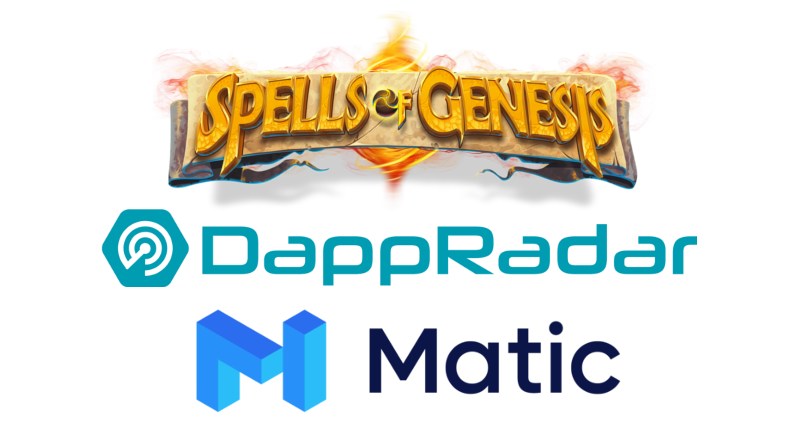 Spells of Genesis, the first blockchain game ever is going to integrate Ethereum blockchain and the revolutionary Matic technology to launch new blockchain-based cards, in partnership with DappRadar
Geneva, 28.1.2020
The Geneva-based company EverdreamSoft, pioneer in the usage of blockchain technology in gaming since 2014, announced today the plan to integrate Ethereum blockchain in their flagship game "Spells of Genesis". Enabling multiple blockchains inside the game seems to be a logical step, in line with EDS' blockchain-agnostic approach, announced last summer.
Partnership with a blockchain-experienced publisher
For their big move, EverdreamSoft is going to partner with DappRadar, a world leading decentralized application analysis and tracking site, who has recently decided to capitalize on their blockchain experience also by launching their blockchain-publishing activities.
"Partnering with a publisher having an excellent knowledge of blockchain-gaming and NFT sphere, rather than with a classical one is an excellent opportunity to move Spells of Genesis to another level", said Markéta Korteova, COO of EverdreamSoft.
Also DappRadar is very enthusiastic about the upcoming collaboration: "Spells of Genesis was the first notable blockchain game and we can't wait to see it launch on Ethereum and offer deeper levels of gameplay to our combined online audiences", said Ian Kane, Head of Communications for DappRadar.
Integration of Ethereum and Matic Network
EverdreamSoft and Matic share the persuasion that while focusing on user experience and by simplifying it we will soon reach the breaking point where blockchain will gain mainstream adoption. 
"Given the fact we share the same vision, we quickly decided to integrate Matic chain into our newest product line – Crystal Suite. Thanks to this, we will also be able to enable Matic Network sidechain technology in Spells of Genesis." said Shaban Shaame, CEO and founder of EDS.
Advantages of a multi-chain game
Unified experience for user base growth
Thanks to their collection of open source software –  Crystal Spark – EverdreamSoft can easily gather data from different blockchains and present them to the players in an unified and simplified way, no matter the chain. 
EDS believes that this approach will help NFTs community to grow and to bring new, even less tech savvy users.
Gather the communities
Ethereum-based collectibles and games have gathered a very passionate community, who is eagerly awaiting new and innovative projects. On the other hand, since the very beginning Spells of Genesis has been surrounded and supported by a very active and enthusiastic community.  With the accession of Ethereum and later on other blockchains, the community around this Counterparty-based game became niche, but still a very involved one. 
Gathering those two frisky communities can only be beneficial and refreshing for both of them.
New opportunities
Enabling Ethereum smart contracts and Matic sidechain solution within SoG opens the door to future integration of other chains and potential collaboration with many interesting projects.
EDS' projects "Orb Explorer" which Beta version is about to be launched, together with SoG are the first products benefiting from the innovative approach brought by Crystal Spark.
Next steps
EverdreamSoft is going to announce the launch of their "Blockchain History" limited-card series on Ethereum shortly. The cards, specially selected for the occasion because of their great historical and narrative value, will be released very soon, and immediately playable in Spells of Genesis.
---
About EverdreamSoft
EverdreamSoft SA (EDS) is a swiss-based company founded in 2010 as a game studio. Since 2014 EDS has been pioneering integration and use of blockchain tools in the domains of gaming and digital collectibles. 
With their mobile game Spells of Genesis (SoG), launched in 2017, EverdreamSoft set the trend of "true ownership" of digital assets. Currently EDS is focusing on development of multi-chain tools for game developers, IP owners, players and collectors. The latest outcomes of their development allow SoG to become a multi-chain game.
EverdreamSoft is a founding member of Blockchain Game Alliance.
About DappRadar
DappRadar, founded in 2018, is the world leading decentralized application (dapp) analysis and tracking site. Tracking thousands of dapps across multiple blockchains, including Ethereum, EOS, and TRON, ranked by specific metrics such as daily users, daily transaction volume and categorized into dapp games, exchanges, collectibles, gambling and more. 
About Matic Network
Matic Network (Matic) brings massive scale to Ethereum using an adapted version of Plasma with Proof of Stake (PoS) based side chains. They aim to change the current decentralized ecosystem, considered as slow, expensive and complex by leveraging a combination of blockchain scaling, developer platform and tools and focus on user experience.  Matic provides free, instant and secure Ethereum based cryptographic token payments and transfers.
---
Press Contact
Markéta KORTEOVA
Chief Operating Officer, EverdreamSoft