What's new in Spells of Genesis version 1.2.16
Introducing Daily Rewards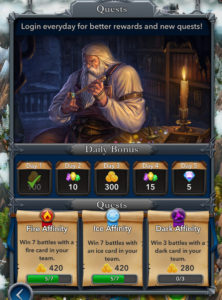 We are glad to announce a new feature in Spells of Genesis: Daily Rewards. For each day you log in, you get a reward. The more consecutive days you log in, the higher your rewards will be. If you miss a day though, the streak will reset to day 1.
Moreover, the location of Daily Quests will change from the player's screen to a new screen, the same as where the daily Rewards are located. This screen will popup at first launch of the game, so you know what quests you still have to completed.
---
Rarity chances shown when purchasing cards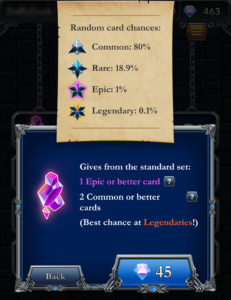 Apple blocked our latest build because they have a new policy that requires games to show the chances of getting each rarity in a random purchase. So we added some new functionality. The player can now see the chance of getting each rarity before doing a purchase by tapping the little question mark next to the description. This will open a popup window displaying the statistics for each type of card.
---
GDPR-ready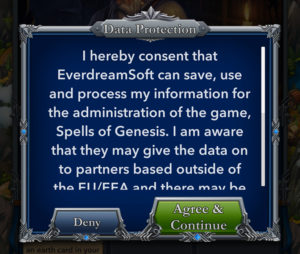 As some of you may have already noticed, this new version has been adapted to comply with the new European General Data Protection Regulation (GDPR). We've added a few screens and links at startup and in the option panel allowing you to learn more about our Terms & Conditions, our Privacy Policy. Please make sure you agree to these conditions to continue playing.
---
Difficulty of last 5 campaign reduced
A while ago, we reduced the difficulty of the first star of the last 5 campaigns. These levels are therefore easier to play.
---
Challenge Mode more open
Challenge Mode is now open to all players who've reached the first star of "The Orc" campaign instead of "Dark Creator."
Challenge or "Infinity" mode is a special level in Spells of Genesis which lets you play continuous rounds of battles until all your team members are defeated. The difficulty is progressively increasing the more you progress, as you are facing stronger opponents. On some occasions, you may also oppose new adversaries or spells like the Poison Spell.
---
One day Flash sales
During the month of May we've started to propose a couple of one-day flash sales. This is a unique way to get a Legendary card plus a Common card. The price will be 180 gems for these two cards. Keep an alert eye on the Shop and our social media channels!